UCF Hosts STARTALK Program for the Third Year in a Row
Dr. Alla Kourova, Associate Professor of Russian and TESOL at the College of Arts and Humanities has been awarded a STARTALK grant for the third year in a row. Dr. Kourova's proposal, "Preparation of a Business Trip to Russia" has been selected for funding as part of the STARTALK 2017 program.
STARTALK's mission is to increase the number of U.S. citizens learning, speaking, and teaching critical need foreign languages. The program offers students (K–16) and teachers of these languages creative and engaging summer experiences that strive to exemplify best practices in language education and in language teacher development. The Office of the Director of National Intelligence (ODNI) launched STARTALK in 2006, with the mission of increasing the number of U.S. citizens learning, speaking, and teaching critical need foreign languages.
This year's classes were taught in the UCF Global Building. STARTALK students took part in different extra-curriculum activities, including field trips to the Holocaust Museum, Russian American community Center, Orthodox Church, theater play in Russian and visit of the very famous singer from Russia Sardor Milano. https://www.youtube.com/watch?v=OYAqycqzfn0
A photo contest among all STARTALK programs across the country was one of the activities the students have participated and got the second place among all the STARTALK programs in the nation.
For Dr. Kourova, "The Russian program at UCF subscribes to the philosophy that you cannot understand a foreign culture unless you speak the language. The motto of the program is: If you talk to a man in a language he understands, that goes to his head. If you talk to him in his own language that goes to his heart."
About Dr. Kourova
Dr. Alla Kourova is an Associate Professor at the University of Central Florida, United States for 9 years. She graduated from Moscow State University with a Doctorate of Philosophy in Teaching Foreign Languages. For more than 10 years Alla Kourova worked as a director of the International Linguistic Center at the Regional In- Service Teacher Training Institute in Penza Russia. With over 30 years of teaching experience globally and at various institutional levels, Dr. Kourova knows that there is more than one approach to language study, and constantly promotes dynamic and multifaceted techniques as well as cross-cultural dialogue in her publications and teaching practice. In 2002 Dr. Kourova was a Fulbright scholar at the University of Montana Sponsored by the American Council and Bureau of Education and Cultural Affairs U.S. Department of States. She is the author of more than 50 publications on language teaching and cross-cultural communication. Dr. Kourova is also a recipient of the University Excellence in Undergraduate Teaching Award, the Scholarship for Teaching and Learning Award, the Teaching Incentive Program Award, and the Excellence in Research Award. This month (July 2017). Dr. Kourova has received a very prestige Fulbright Hays Group grant. For last three years Dr. Kourova has received three US Department of States grants: US – Russia Dialogue Program and STARTALK. For many years, she has also collaborated with prestigious organizations such as the Peace Corps, the Fulbright Institution of International Education, FLEX, and Open World Foundation. Her pedagogical credo is teaching language through culture.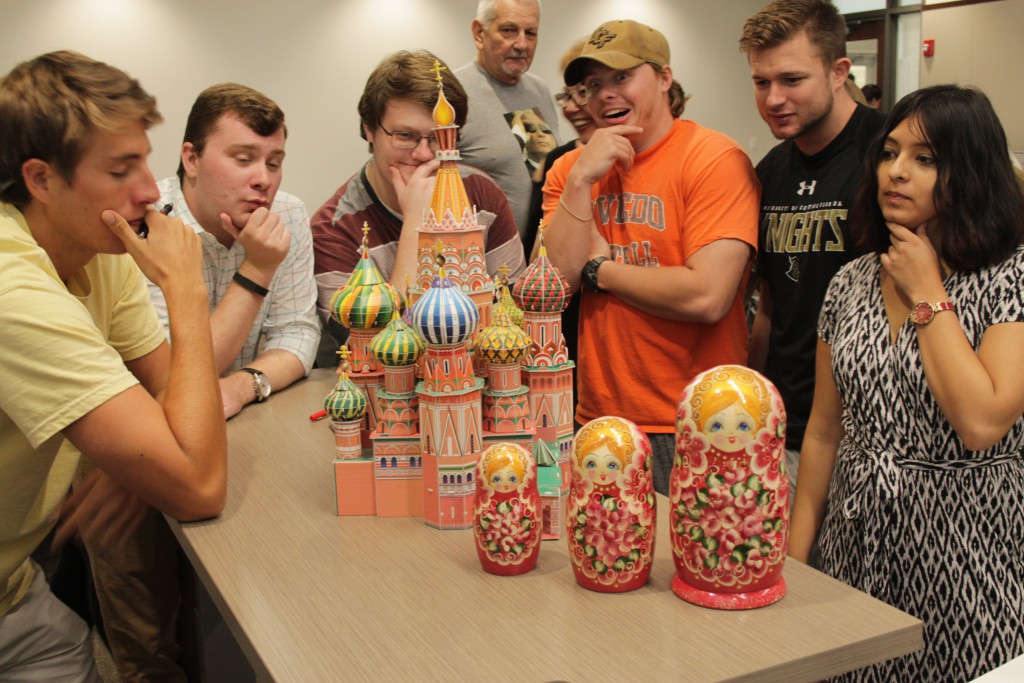 "Russia is a riddle wrapped in a mystery inside an enigma."-Winston Churchill