International Hub on Campus
UCF Global at the University of Central Florida functions as the primary international hub for students, faculty, and staff. Through strong partnerships UCF Global is committed to increasing international mobility and enhancing the university's global competency. Encompassing the English language programs and multiple support services for the international population on campus, UCF Global aides in transforming the lives of the UCF and global community.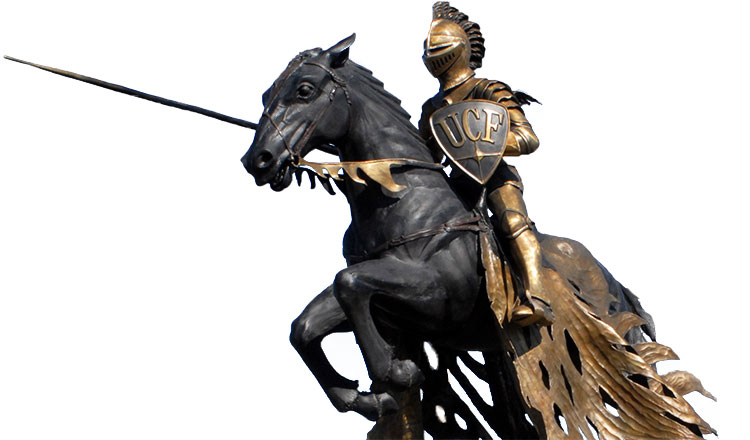 UCF GLOBAL IS ON A QUEST TO TRANSFORM LIVES
by providing access to high impact, international experiences across the UCF and global community with a commitment to excellence in partnership, innovation, and services.
KEY INITIATIVES

Goal 1
Facilitate communication and partnerships across campus in all disciplines, colleges, cultures, and nations.

Goal 2
Increase both the number and diversity of students, faculty, and staff having high impact international experiences.

Goal 3
Become the University of Choice in the State of Florida for international students, scholars, and global partners.

Goal 4
Strategically invest in innovative international initiatives through Fiscal Stewardship and a culture of cost containment.
INTERNATIONAL STUDENTS AT A GLANCE
A strong international presence positively impacts the university community through enhanced global competency, engagement, and innovation.
5001
TOTAL STUDENTS ENROLLED
UCF Global is proud to host more than 5,000 students from 151 countries across all 13 colleges.
TOP 5
COUNTRIES REPRESENTED
India
Venezuela
China
Brazil
Saudi Arabia
INTERNATIONAL STUDENTS BY THE NUMBERS
UCF Global is proud to host more than 5,000 students from 151 countries across 13 colleges.
Please see the charts which breakdown the international student population at UCF by academic career, visa type and level, and by college.
The University of Central Florida is a thriving global community.
BY ACADEMIC CAREER
| | |
| --- | --- |
| | Undergraduate : 65% |
| | Graduate : 35% |
BY VISA TYPE AND LEVEL
| | | | |
| --- | --- | --- | --- |
| | Undergraduate F1 Visa : 39% | | Graduate F1 Visa : 30% |
| | Undergraduate Other : 24% | | Undergraduate J1 Visa : 2% |
| | Graduate J1 Visa : 2% | | Graduate Other : 2% |
| | |
| --- | --- |
| | College of Engineering & Computer Science : 38% |
| | College of Sciences : 16% |
| | College of Business Administration : 13% |
| | Rosen College of Hospitality Management : 8% |
| | College of Medicine : 5% |
| | College of Community Innovation & Education : 5% |
| | Undeclared : 5% |
| | College of Health Professions & Sciences : 3% |
| | College of Arts & Humanities : 3% |
| | College of Optics & Photonics : 2% |
| | College of Nursing : 1% |
| | College of Undergraduate Studies : 1% |
| | College of Graduate Studies : 0.3% |